You can place your slogan here.
This would also be a great spot for a top product pitch. Testimonials
© Copyright 2020 - Geraghty Electric Inc. - All Rights Reserved
Call us today @ (516) 797-3383



-- Licensed and Insured --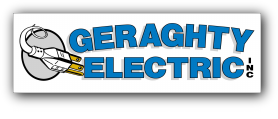 About Us
Geraghty Electric Inc. is a full-service electrical contracting company. Our goal is to make customers feel like they have received quality service at a fair price. Our team of expert electricians will take a concept and see it through to completion. This has been our practice to success. See left panel on all pages for our customer testimonials!
Organizations
Some of the organizations Geraghty Electric belongs to are:
The
Massapequa Chamber of Commerce
,
The Nassau Electric League
,
NFPA
, and
LeTip
(click links on top of page for websites)
Phone ° Computer ° Cable
Pool and Spa ° Outdoor Lighting
Home Theater ° Service Upgrade
New Construction ° Renovation
Commercial and Maintenance Accounts
---
---
Services
We offer the following services: Full house wiring, dormers, extensions, violations removed, service upgrades, landscape lighting, pool wiring, emergency service call, commercial stores and warehouses, telephone and TV wiring, home automation, home theater, and maintenance contracts. Please
contact us
for free estimates
---

I would highly recommend Geraghty Electric
".I am in the process of a major kitchen renovation, I recently hired Geraghty Electric to install recess lights, pendant lights, under cabinet lights and provide the proper electric outlets for all the new appliances, They did a wonderful job and gave some great suggestions. My husband was very happy with the neat ,clean work they did running all the new lines. They were professional and trustworthy" by Kathy from West Islip, NY - 1/25/10
---
All's well that ends well
"After using FindAPro.com to find an electrician, I hired Geraghty Electric. I needed an estimate on replacing a line. During the work, the main box blew out and we were forced to replace that, too. They came early the next day to replace the box. I was happy with the results and would recommend them to friends despite the snag with the main box" by Jason from Long Beach, NY - 12/28/09